As I mentioned in my last post, the
WRMK Washi Tape Dispenser
sold out on HSN before I was able to snatch one up. This, of course, made me obsessed with getting a dispensor elsewhere. I can't explain why this happens to me, but when I get something in my craw (what is a craw anyway?), I can't seem to let it go. So I scoured the internet for an adequate, yet cost effective substitute...
I found a lot of neat inventions on Pinterest...
...and some really cool products on Etsy,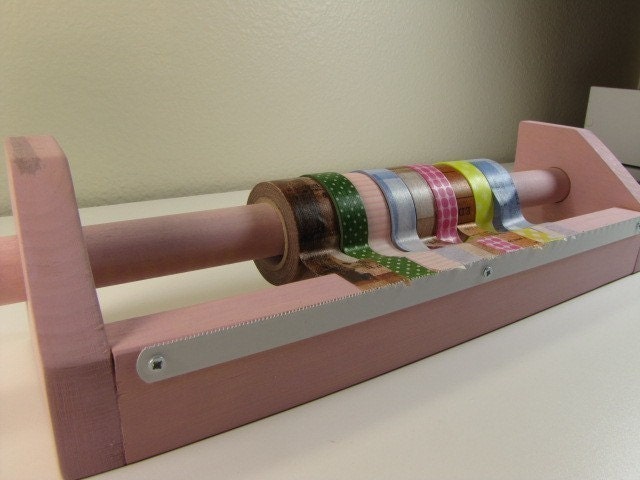 ...but nothing that set my hair on fire.
I had a super simple idea, but I assumed that if I hadn't come across it during my research, then it probably had been tried and the idea was a dud. I gave it a try any how and guess what? It worked!
Here are instructions on how to make a super simple washi tape dispenser.
1. Find an empty aluminum foil, wax paper or plastic wrap box. Try to use a box that has a serrated edge on the bottom just like a scotch tape dispenser otherwise ripping the tape off may be awkward.
2. Remove the tube inside and slide a roll of tape on it to make sure it fits. It is OK if the roll of tape is loose on the tube but keep in mind that the looser it is, the less tension you'll have on the individual rolls of washi tape.
3. Place packing tape on the front lower half so when you extend the tape tail from the roll and set it on the box edge, you can easily lift it off the box without the washi sticking to the box paper.
4. Now reinforce the box with packing tape or go wild and collage with washi tape. This will make the box more durable and if you use washi tape you will have quick reference as to which tape is the box.
My box was on the smaller side so I could not put rolls all the way to the edges. If your box is too small for some of your washi rolls, start using more plastic wrap so you have another box to work with.
Since writing this original post, I have come upon an upcycle for single rolls of Washi tape. You can find the tutorial
here
.